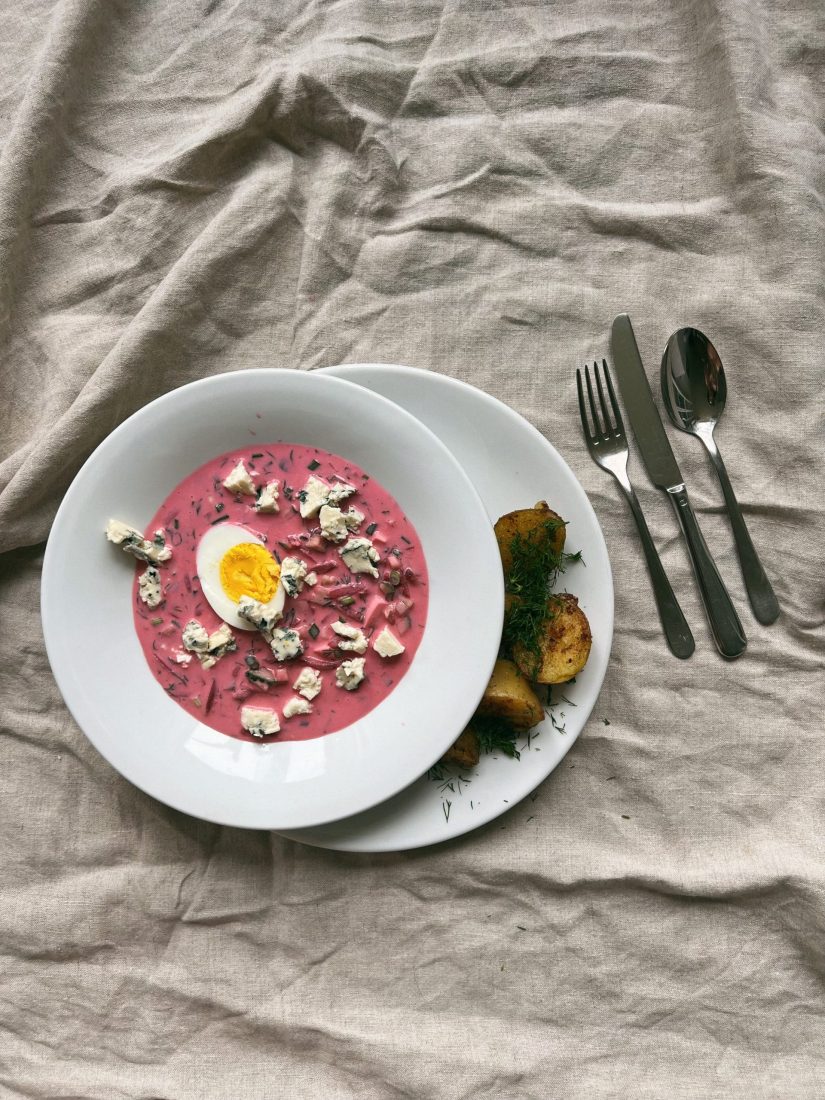 23 Bir

Vasaros hitas – šaltibarščiai su pelėsiniu sūriu

Nėra nei vienos vasaros, kuri neapsieitų be šaltibarščių!

Aš pati dievinu juos gardintus su pelėsiniu sūriu, o kartais įdedu ir šlakelį krienų dėl malonaus prieskoniškumo.

Šalia virtos ir po to truputį pakeptos ant sviesto bulvytės, krapai – daugiau nieko ir nereikia. Nebent gero oro:)

Skanios vasaros!
Šaltibarščiai su pelėsiniu sūriu bei virtomis ir po to apkeptomis bulvytėmis
Jums reikės:
380 g marinuotų tarkuotų burokėlių 

3 agurkų 

3 virtų kiaušinių 

6vnt ridikėlių 

2 a.š. kaimiškų krienų 

Pundelio svogūnų laiškų 

Pundelio krapų 

1 l Vilkyškių kefyro 

2 pak. mėlynojo pelėsinio sūrio VILVI Memel Blue 

100 ml mineralinio "Vytautas" 

Sviesto

Mažų bulvyčių 

Druskos 

Pipirų 
Gaminimo eiga:
Pirmiausia nuplaukite bulves, padruskinkite vandenį ir sudėkite bulves su lupena į puodą. Kol bulvės verda pasiruoškite šaltibarčius. 
Viską smulkiai susipjaustykite, ridikėlius tik galite pjauti per pusę, o agurkus ir žoleles smulkiai. 
Viską iš eilės dėkite ir pilkite į šaltibarščių puodą. 
Burokėlius pilkite kartu su marinatu, tai priduos daugiau skonio, tuomet dėkite supjaustytus agurkus, krapus, svogūnų laiškus. 
Viską užpilkite kefyru ir mineraliniu vandeniu.
Šaltibarščius paskaninkite druska, pipirais ir krienais. Viską labai gerai išmaišykite. 
Išsivirkite kiaušinius. Du kietai išvirtus kiaušinius supjaustykite smulkiai ir įmaišykite į šaltibarščius, o likusį skysčiau, apie 6min užvirus, jį įsidėkite į lėkštę serviruojant. 
Kol verda kiaušiniai, mažais gabaliukais susilaužykite mėlynojo pelėsinio sūrio. Negailėkite jo į porciją, jis priduos labai skanių potyrių. 
Išvirus bulvėms, jas nusunkite, keptuvėje ištirpinkite sviestą ir dar šiek tiek apkepkite, kad susidarytų traški plutelė. Paskaninkite krapais. 
Į lėkštę supilkite šaltibarščius, įdėkite kiaušinius, negailėdami sūrio ir mėgaukites skaniausia šaltibarščių lėkšte! 
Tips'ai:
Išbandykite vietoj krienų wasabi! 

Vietoj vieno šviežio agurkiuko, įdėkite raugintą