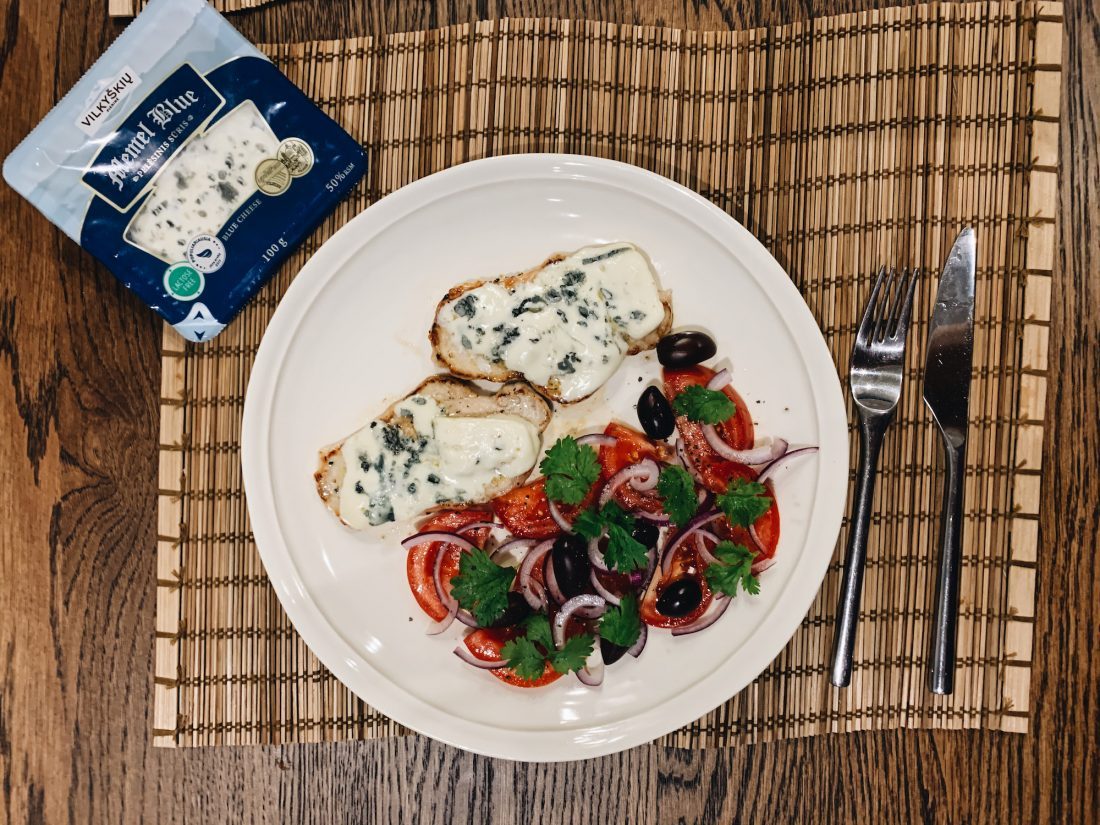 05 Spa

Kepsnys su mėlynojo pelėsio sūriu ir salotomis

Iš savo receptų knygutės ištraukiau dar vieną pasimatymo vertą, o trunkantį vos kelias minutes, receptą!

Reikės vos kelių ingredientų ir keptuvės.

Važiuojam? Važiuojam!
Kiaulienos kepsniai su mėlynojo pelėsio sūriu ir pomidorų, raudonųjų svogūnų bei alyvuogių salotomis
2-iems jums reikės:
300g kiaulienos nugarinės (galima pirkti iškart pjaustytus gražius gabaliukus, be to tinka ir sprandinė)
100g sūrio su mėlynaisiais pelėsiais "Memel Blue" iš "Vilkyškių pieninės"
Druskos
Juodųjų pipirų
Alyvuogių aliejaus
Aliejaus kepimui
Juodųjų alyvuogių Kalamata su kauliukais
1 didesnio pomidoro
1 raudonojo svogūno
Kalendros lapelių
Gaminimo eiga:
Kiaulienos nugarinės kepsniukus truputį pamušame. Dariau po du mažesnius vienai porcijai. Juos padruskiname, papiriname ir aptepame alyvuogių aliejumi.
Ruošiame garnyrą – supjaustome griežinėliais pomidorus, sudedame alyvuoges ir gausiai šviežio raudonojo svogūno, pjaustyto griežinėliais taip pat. Pagardiname druska, pipirais, alyvuogių aliejumi ir kalendra.
Į įkaitintą keptuvę pilame truputėlį kepimo aliejaus, ploną kiaulienos kepsnio gabaliuką pakepame apie dvi minutes iš vienos pusės ir apvertę iškart dedame gausiai pelėsinio sūrio! Čia jo reiktų negailėti. Pjausčiau didelėmis riekėmis.
Po minutės, galima pamažinti ugnį ir uždengti dangčiu, jog sūris įšsilydytų, tačiau nereiktų perlaikyti, nes tiesiog perkeps mėsa.
Jūs neįsivaizduojat, kaip tinka pelėsinis sūris, kiauliena ir raudonasis svogūnas! O dar kai šalia šviežia kalendra – šakės!
Skanaus!