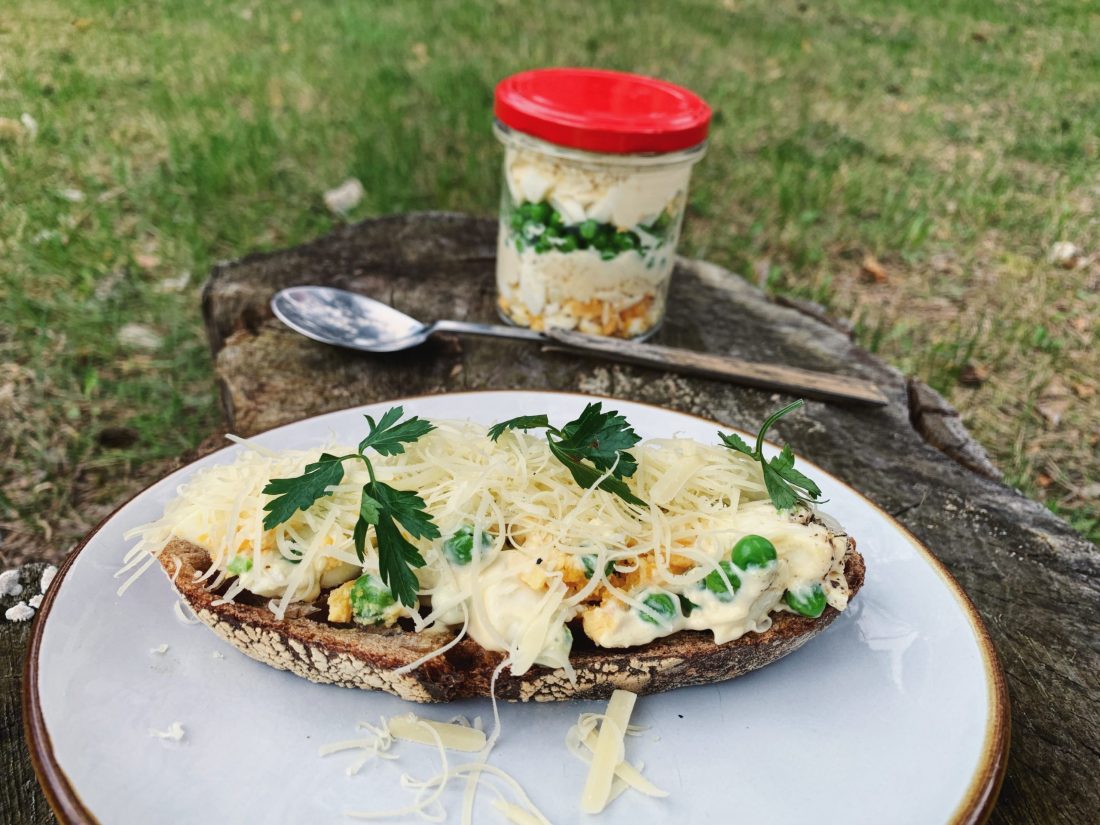 09 Bal

Pikantiška mišrainė su naminiu majonezu ir žirneliais

Pikantiška mišrainė, pikantiškos salotos – skamba pikantiškai, a? Ar jūs pastebėjote, jog į mūsų virtuves ir net madą grįžta nostalgiška virtuvė?

Į manąją taip pat. Siūlau šv. Velykoms arba po jų, – kai liks virtų nesuvalgytų kiaušinių, pasigaminti gerą pikantišką mišrainę.

Ir šventėms, ir kasdienai – dalinuosi naminio majonezo receptu.

Skanaus ir pirmyn į gamybą!
Pikantiška mišrainė su naminiu majonezu ir žirneliais
Naminis majonezas
Jums reikės 300g majonezo:
2 kiaušinio trynių
200ml neįpareigojančio aliejaus (rapsų, saulėgrąžų)
1.5 valgomojo šaukšto acto (vynuogių ar pan.; aš naudojau šparagų)
žiupsnelio druskos
1.5 valgomojo šaukšto dižono garstyčių
Mišrainei:
(Iš šio kiekio gaunasi 0.5l stiklainiukas mišrainės, didesnei šeimai – dvigubinkit)
90g "Vilkyškių pieninės" sūrio "Prussia"
3 kiaušinių
150g šaldytų žirnelių
naminio majonezo
druskos
pipirų
česnako skiltelės
galima gardinti krapais arba petražolėmis
Gaminimo eiga:
Naminio majonezo gamyba:
Pasiruošiame visus ingredientus.
Labai svarbus momentas: į aliejų pilame actą ir blenderiuojame iki kol turėsime emulsinę konsistenciją.
Atskirai suplakame kiaušinio trynius su garstyčiomis, beriame druską.
Tuomet į kiaušinių ir garstyčių masę LABAI PO TRUPUTĮ pilame aliejaus ir acto emulsiją be perstojo blenderiuodami.
Po truputį pajausite gimstančią majonezo konsistenciją.
Česnaką galite įdėti darant majonezą arba susmulkinti ir po to juo pagardinti jau paruoštą.
Eksperimentuokite naudodami skirtingas aliejaus rūšis: rapsų, saulėgrąžų. Mano bičiulė Lina Žilevičė pasidalino, kad labai puikiai su šviežiai spaustu nerafinuotu saulėgrąžų aliejumi.
Eksperimentuokite pasirinkdami vis kitokį actą.
Galiausiai galite gardinti rūkytos paprikos milteliais – suteikdami Pietų Amerikos skonių, ciberžole ar kariu – suteikdami indiško atspalvio.
Norite sveikiau – išbandyktie avokadų aliejų.
Pikantiškų salotų gamyba:
Išsivirkite kiaušinius. Juos dedu į verdantį vandenį 10-iai minučių, po to juos pakišu po lediniu vandeniu arba dedu į indą su ledukais. Kiaušiniai labai lengvai ir gražiai nusilupa.
Kiaušinius sukapoju. Sūrį "Prussia" sutarkuoju. Atsišildau žirnelius, galima naudoti ir konservuotus.
Tuomet sluoksniais dedu kiaušinius, sūrį, majonezą, pabarstau pipirais, dedu žirnelius ir kartoju.
Puikiai tiks krapai arba petražolės.
Galima pateikti ir iškart sumaišytą mišrainę.
Tepkite ant mėgstamos duonos, mirkykite agurkus ir mėgaukitės.