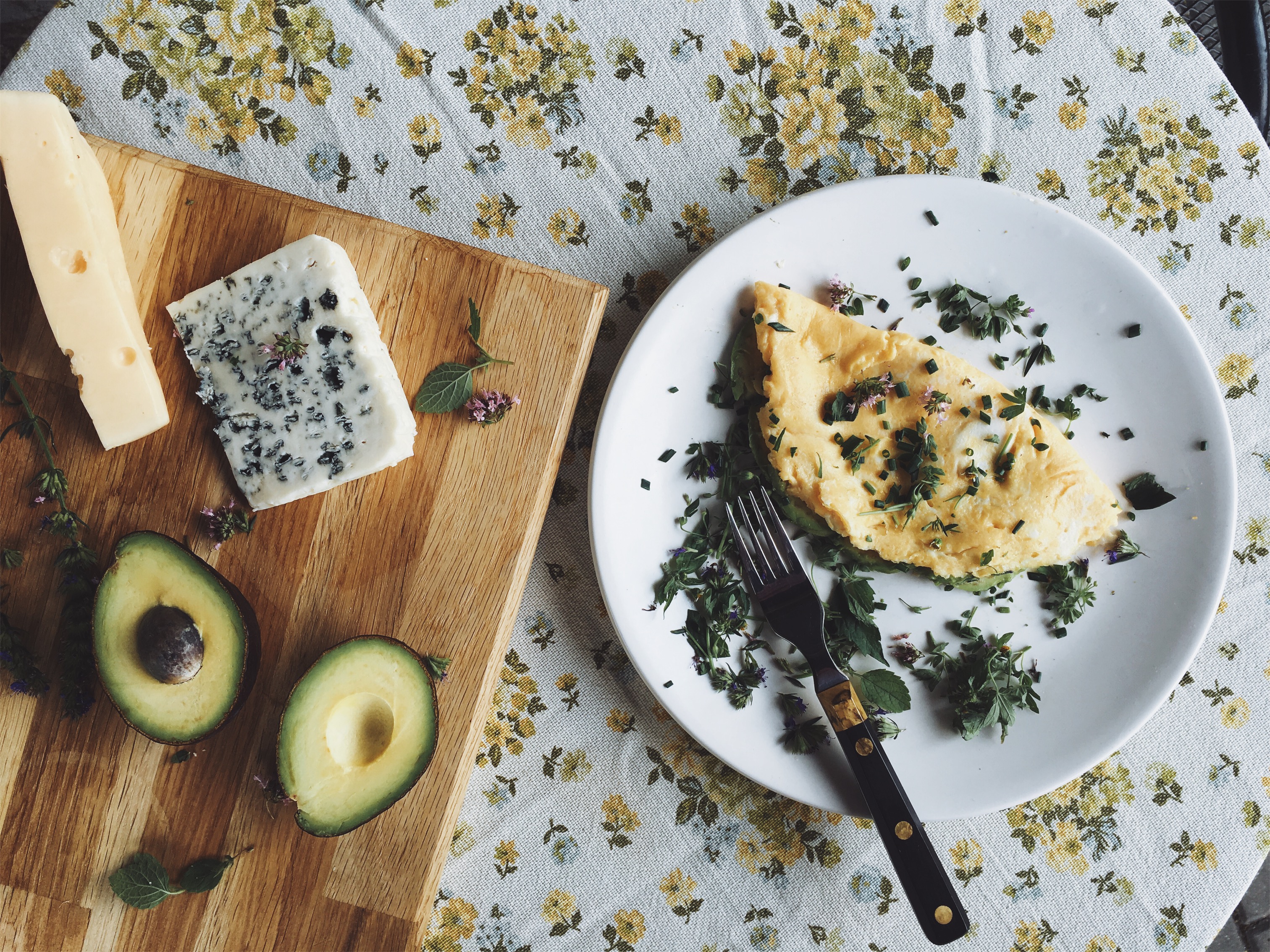 22 Lie

Pradžioj buvo omletas. Omleto su dviem sūriais receptas + ekstra patarimai

Nors iš pažiūros omletas atrado gan paprastai paruošiamas patiekalas, visgi norint pagaminti jį teisingai, reikėtų nepamiršti keleto svarbių taisyklių. Jomis su Jumis ir dalinuosi.

Tiesa, nepergyvenkite, aš pati kol išmokau ruošti tikrą prancūzišką omletą, prikepiau nemažai kiaušininių blynų.
Svarbiausios taisyklės, kurių nevalia pamiršti norint išsikepti omletą:
Teisingai išplakti kiaušiniai
Vidutinė kepimo temperatūra
Lengvas maišymas ir nuolatinė priežiūra
Sviestas prieš, druska – po arba be jos
Teisingai išplakti kiaušiniai. Įmuškite kiaušinius į dubenį, juos plakite švelniai iki vientisos masės. Tačiau perplakti jų irgi nevalia.
Vidutinė kepimo temperatūra.Keptuvė turi būti įkaitinta iki vidutinės ugnies. Ir viso kepimo metu svarbu jos nekeisti. Ant įkaitintos keptuvės reiktų ištirpdyti gabalėlį sviesto. Ant jo omletą ir kepkite.
Lengvas maišymas.Bene pagrindinis dalykas kepant omletą – taisyklingas maišymas. Tik supylus kiaušinius juos lengvai maišykite. Jokiu būdu to nedarykite chroniškai ir netvarkingai. Su kiaušiniais reikia elgtis labai švelniai. Maišykite juos lengvu judesiu iš vidurio išskirstydami į abu šonus. Išties rekomenduoju pažiūrėti youtube apie tobulo omleto kepimą.
Druska ir pipirai.Vat čia daug kas daro klaidą, nes deda druską beplakant, o išties druską ir pipirus reiktų dėti jau ant iškepto omleto. O aš druskos išvis nenaudoju, juk sūris jos turi pakankamai.
Laiminga pabaiga. Kai kiaušiniai ims trauktis ir nebeliks skysčio, gražiai išlyginkite ir palikite dar 30-iai sekundžių. O dabar jau priedų eilė! Tuomet lenkite per puse arba suvyniokite.
Gaminimo eiga:
Pagal visas aukščiau nurodytas instrukcijas iškepkite omletą. Per tą laiką susipjaustykite žolytes ir avokadą. Beje, avokadą pjaukite išilgai, po to jį išimkite šaukštu ir pjaustykite skiltelėmis.
Pelėsinį sūrį sužnaibykite arba naudokite jau trupintą.
Masdaam sūrį galite tarkuoti, bet aš mėgstu jį supjaustyti labai plonais gabalėliais ir tiesiog juo iškloti omletą.
Dėkite avokadą ir visas žoleles.
Sumuštinio su omletu variacija
Omletą galite serviruoti vieną arba padaryti sumuštinį su omletu. Tuomet ant keptuvės ir sviesto truputį pakepkite iš abiejų pusių juodą duoną su saulėgrąžomis ir grūdais. Tuomet ant jos dėkite avokadą ir Masdaam sūrį, o į patį omletą vyniokite tik sūrį su mėlynuoju pelėsiu.