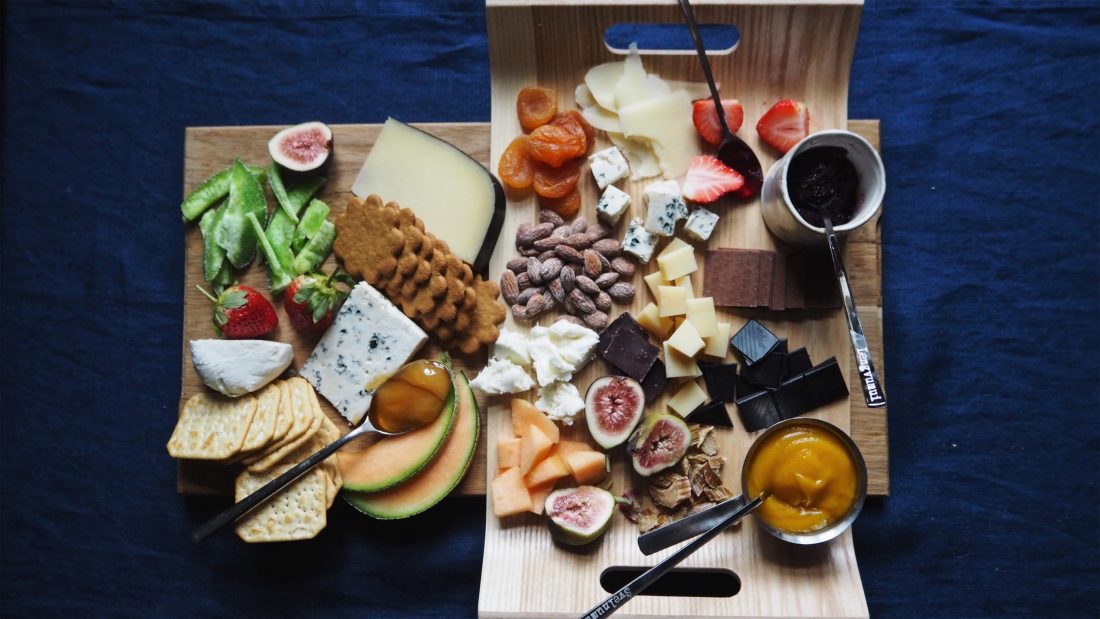 17 Sau

Vietoj deserto, po vakarienės, užkandžiavimui – saldi sūrių, lenta

Labai daugelyje šalių yra tokia graži tradicija ir, net sakyčiau, įprotis – po vakarienės vietoj deserto arba po deserto pateikti įvairių sūrių su džemais bei kitais pagardais. Įveskime ją ir pas mus!

Be abejo, tokia sūrių lenta, kuria pasidalinsiu, puikiai tinka ir draugų ar šeimos susibūrimams bei užkandžiavimui – laimės ras ir smaližiai, ir tiesiog užkietėję sūrio mylėtojai.
Kaip pasirinkti sūrius?
Aš siūlau į viską žvelgti paprastai ir rinktis tiesiog skirtingas 3-6 sūrių rūšis, kaip pavyzdžiui:
vieną ar du sūrius su pelėsiu (su mėlynuoju, be abejo "Vilkyškių" "Memel Blue", ar baltuoju)
šviežią minkštąjį sūrį, pvz. mocarelą
puskietį, pvz. pikantiškus "Vilkyškių", ypač tiks "Basilis" su bazilikais
kietąjį, aš renkuosi švelnų "Vilkyškių" "Prussia"
varškės sūrį
ožkos pieno sūrį
Mano sūrių lentos trijulė:
Sūris su mėlynuoju pelėsiu "Memel Blue"
Mocarela
Kietasis sūris "Prussia"
Tiesiog norėjau parodyti, kad ir su trimis sūriais galima padaryti žavingą sūrių lentą. O triukas tame, jog visus pjausčiau skirtingai. Kietąjį pateikiau gabaliukais ir skustą, su mėlynuoju pelėsiu supjausčiau kubeliais ir palikau gabaliuką pjauti savarankiškai, mocarelą paplėšiau ir palikau gabaliuką.
Sūrių lentos papildomi priedai ir pagardai:
Vaisiai ir uogos:
Figos
Braškės
Melionas
Konservuoti ananasai
Puikiai tiks ir kriaušės, persikai
Džiovinti vaisiai ir riešutai:
Kokosų drožlės
Džiovinti greipfrutai
Džiovinti obuoliai
Džiovinti persikai
Džiovinti rabarbarai
Sūdyti ir saldūs migdolai
Anakardžiai ar kiti mėgstami riešutai
Kiti pagardai:
Imbieriniai ar kiti mėgstami saldūs sausainukai
Neatsispyriau ir įdėjau sūrių krekerių, kurie puikiai suderėjo su džemais
Iškepkite sūrio sausainių
Džemai:
Obuolienė
Aviečių uogienė ar džemas
Vyšnių uogienė
Figų džemas
Apelsinų džemas
Šokoladai:
Pieniškas šokoladas (rinkausi su apelsinu)
Juodasis šokoladas 55%
Juodasis šokoladas 85%
Drąsiai galite rinktis ir kitus savo mėgstamus priedus bei vaisius ir uogas atsižvelgdami pagal sezoną.
Aš siūlau ragauti ir atrasti naujus derinius, tačiau pasidalinsiu keliais atrastais skoniais bei patarimais.
Keli sūrių ir pagardų deriniai:
Sūris su mėlynuoju pelėsiu + obuolienė, figų džemas, aviečių, vyšnių uogienės, medus, graikiniai riešutai, džiovinti persikai, 85% juodasis šokoladas
Mocarela + braškės, figos, melionas, medus, džiovinti greipfrutai, pieniškas šokoladas, aviečių džemas
Kietasis sūris "Prussia" + figos, migdolai, imbieriniai sausainiai, sūrus krekeriai, 55% šokoladas, obuolienė