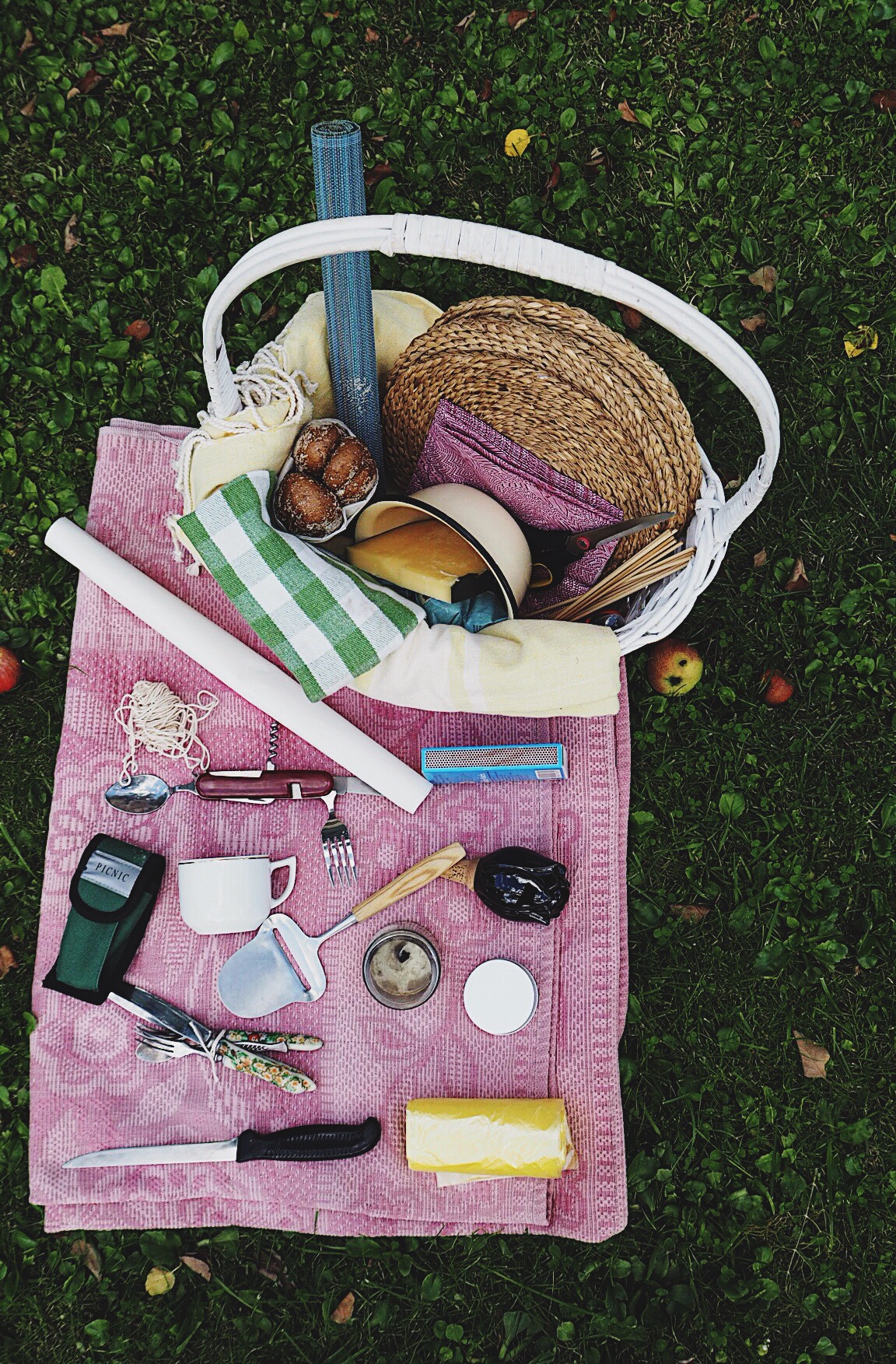 16 Rgp

Iškylautojo gidas: kokius daiktus pasiimti į pikniką

Ši vasara ir visas sezonas yra itin sėkmingas visiems, mėgstantiems piknikus ir iškylas gamtoje. Aš suprantu, jog daugeliui piknikas asocijuojasi su labai fainu, bet nemažai reikalų ir pastangų reikalaujančiu įvykiu. Galiu atsakyti: ir taip, ir ne. Taip, nes piknikas ir visos iškylos yra labai smagus, jaukus ir džiugesio teikiantis reikalas. Ir ne, jis nereikalauja tiek daug pastangų, kiek atrodo. Čia tiesiog svarbus protingas pasiruošimas!
Truputį apie iškylas
Jas galima rengti bet kuriuo paros metus ir vos ne bet kurioje pasaulio vietoje. Net ir žiemą, vėlyvą rudenį ar ankstyvą pavasarį. Čia puikiai tinka sena gera banali, bet teisinga frazė: nėra blogo oro, yra tik bloga apranga. Aš visada visiems sakau: nebijokite iškylauti, net ir pietauti galite surengę mini pikniką parkelyje. Įjungę fantaziją piknikauti galite ir oro uoste! Štai keletas idėjų kur: parkuose, pievose, miškuose, prie ežero, pajūryje, atvirose miesto erdvėse, soduose ir net ant stogo.
Kokius daiktus reiktų turėti su savimi?
Nors jūsų krepšio turiniui jokių apribojimų nėra, visgi esti keletas daiktų, kuriuos rekomenduojama turėti kiekvienam iškylautojui. Ypač organizuojant truputį ilgesnį nei pusvalandžio pikniką.
Krepšys arba kuprinė. Aš visuomet balsuoju už patogų ir truputį dailų krepšį, man jis neatsiejamas pikniko atributas. Nors esu iškylavusi ir ant palto, ir ant staltiesės, bet jeigu jau ruošiatės, pasiimkite su savimi mylimą pledą: medvilninį, lininį, vilnonį ar kokį tik mėgstate.
Indai ir įrankiai. Žmonės, pamirškime plastiką! Tikrai nesunku pasiimti pora lėkštučių, šakučių ar puodelį. Jeigu šis atributas jums tikrai sudaro problemų, įsigykite popierinius vienkartinius indus ir medinius įrankius.
Peilis ir atidarytuvas. Šių pamiršti nevalia! Turiu įsigijusi piknikui skirtą atidarytuvą kartu su peiliu, šakute ir šaukštu. Puikus daiktas.
Servetėlės! Imkite ir sausas, ir šlapias.
Degtukai ir žvakė. Protingiau būtų pasiimti žvakę nuo uodų, bet aš mėgstu kokybiškas dekoratyvines.
Šiukšlių maišai! Rekomenduoju naudoti yrančius.
Apsauga nuo vabzdžių ir saulės. Nepamirškite kremo nuo saulės ir purškalo ar žvakės nuo uodų. Pamenu, kažkada pastaruosius buvau pamiršusi ir nuo uodų antplūdžio gyniausi itin įdomia metodika – smilkalais.
Sūrio peilis. Na, čia tiems, kas myli sūrį.
Papildomai. Aš visuomet pasirūpinu dar papildomomis medžiaginėmis servetėlėmis, visokiais daikčiukais, ant ko serviruoti maistą.
Kompanija. Nors kartais geriausia kompanija esame patys sau, kai ateina laikas pagalvoti, pamedituoti ar tiesiog pailsėti. Bet su draugais juk smagiau! Nepamirškite jų, mylimųjų ir visų artimųjų. Arba tiesiog geros knygos ar mėgstamo žurnalo.
Ir aišku, kaip be duonos ir žaidimų! Pasiimkite mylimo sūrio, mėgstamos duonos ir vyno! Beje, dar vienas svarbus atributas – šaltkrepšis. Jis tiesiog puikus gelbėtojas tokią tropinę vasarą.
Piknikas vos iš kelių ingredientų
Yra vienas geras posakis – kas perdaug, tas nesveika. Iškylai jis puikiai tinka ir dažniausiai jai užtenka vos 3-4 produktų. Vėliau, kai jau tapsite įgūdę piknikautojai, racioną galėsite paįvairinti!
Sūris. Be jo – niekur! Piknikui pakankama 1-2 sūrio rūšių. Nors sakoma, jog labiausiai  tam tiks puskiečiai ar kietieji, aš visuomet pasiimu arba mocarelos, arba sūrio su mėlynuoju pelėsiu. Reiktų tiesiog įvertinti faktorių, kiek ilgai keliausite iki iškylos vietos – ar gresia pavojus šviežiems sūriams. Dar kartą priminsiu – šaltkrepšis jūsų draugas!
Duona, duoniukai, krekeriai ir kiti sveikesni pakaitalai. Juos drąsiai galite naudoti sumuštiniams, tepti įvairius užtepus ar krimsti vienus.
O pats geriausias desertas – vaisiai ir uogos!
Įvairios užtepėlės – jau paruoštos ar jūsų pačių gamintos, puikiai pravers iškylaujant. Jų yra įvairių – veganiškų, vegetariškų, varškės kremo, sūrio, įvairių daržovių, taip pat visų mėgstamas humusas.
Vasarą gausu įvairių šviežių daržovių. Pasigaminkite salotas arba neškitės jas vienas! Salotas galite pasiruošti iš anksto stiklainiukuose, o padažą užpilti čia pat, iškylos metu.
Grilio mėgėjams ne tik mėsa! Puikiai tinka įvairios daržovės: kukurūzai, baklažanai, saldžios bulvės, cukinija, paprika arba varškės sūris, kurį galite pamarinuoti ir įvynioti į pušų šakas bei foliją.
O aš jus nudžiuginsiu ir pasidalinsiu gardaus ir sotaus sumuštinio receptu, kurio iškylai sočiai užtenka ir pačio vieno.
Čyz!
Ir štai dar keletas įkvėpimų iš mano gyvenimo iškylų!