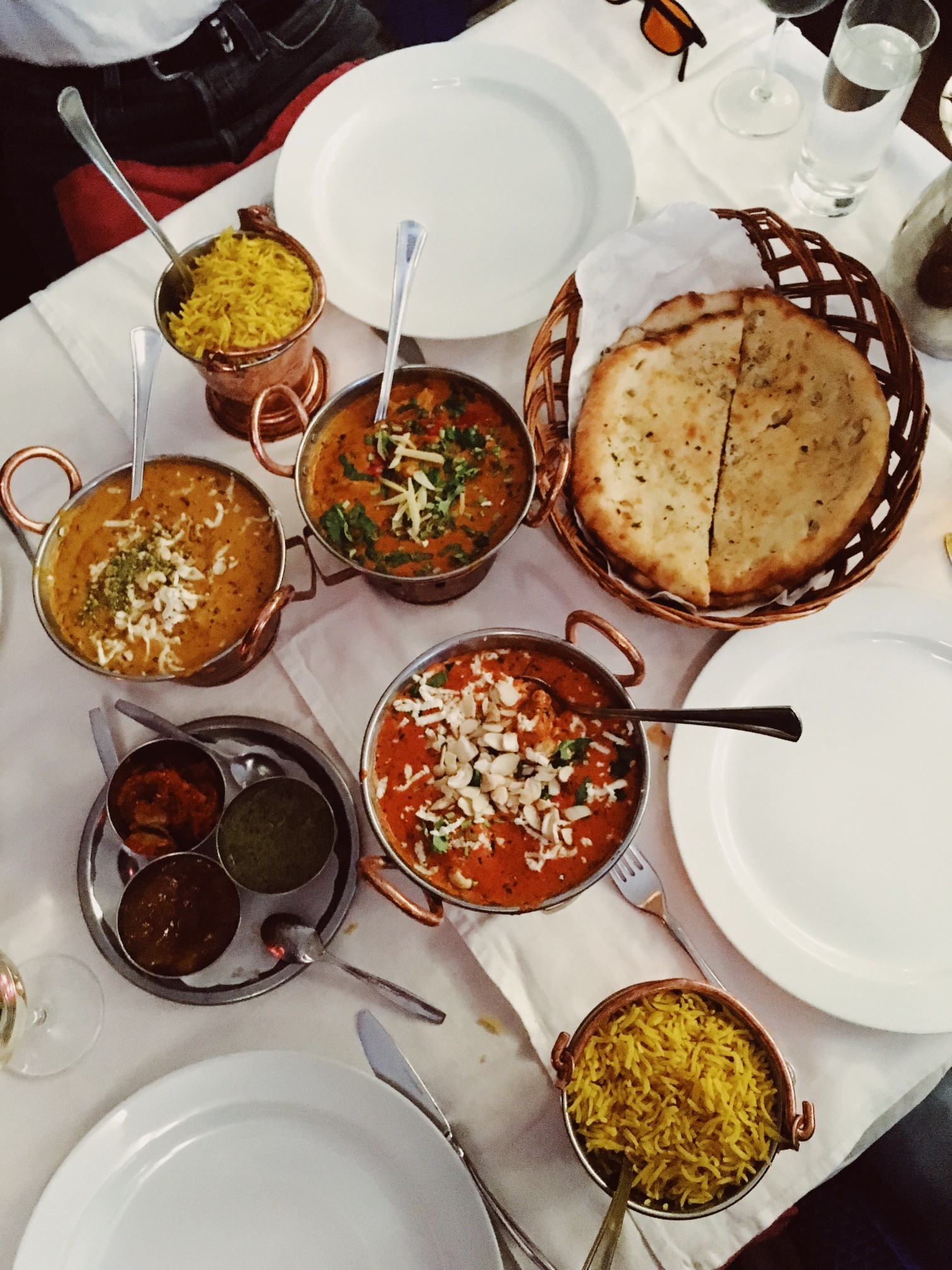 10 Geg

Kokį maistą pasaulis mums atneš ant stalo 2018-aisiais metais?

O taip, mielieji, atėjo laikas 2018-ųjų maisto horoskopui. Po išsamių tyrimų bei oficialių prognozių,- skelbiu.

Beje, jau kelinti metai suprantu, jog mano organizmas nujaučia trend'us ir padiktuoja man juos anksčiau laiko. (Gal aš kokia maisto pasaulio Palmyra?) Praeitais metais, dar net nepaskelbus tendencijų, strigau su humusu, izraelietišku maistu, pasidaviau besąlygiškai meilei jūrai (kurios produktas buvo visiškas trend'as), valgiau pusryčiams kiaušinių patiekalus iš viso pasaulio, atsigręžiau į klasikines virtuves, gėriau šampaną ir pamilau dar kartą lietuvišką virtuvę. Tai šių metų paskutines dekadas negalėjau gyventi be veganiško morkų ir datulių pyrago su kokosų kremu, net naujus metus sutikau valgydama ryžius bei gerdama džiną. Gryną. Avokadą tepiau net ant šokolado, dėjau į grikius, kišau į omletus bei taip atradau vištą iš naujo, kad bent du kartus per savaitę (kartais ir tris) valgau indišką gėrį – Tikka Masala.

2018-ieji – GRAŽIŲ FIGŪRŲ IR SVEIKŲ KŪNŲ METAI 

Google pateikė duomenis, jog per pastaruosus metus, lyginant su ankstesniais metais, raktažodžiai "vegan food" buvo vedami į paiešką net 90 proc. dažniau. Nebijokite, žmonės, veganų atsirado vos 3 proc. daugiau, pasaulis netampa jais, tiesiog pradedama ieškoti sveikesnių bei augalinės kilmės produktų.

Mėsa neišeina ir niekada neišeis iš mados, tačiau integruojamos dienos be mėsos, ieškomi proteinų turintys pakaitalai.

Nors veganiška pica, veganiškas sūris, veganiški tortai yra be galo geidžiami, o įprastas karvių pienas keičiamas migdolų, sojų, kokosų pienu, šiltas maistas niekada nebus išstumtas iš mūsų raciono.

SRIUBOS!

Na, eikite skambinti mamoms ir močiutėms, grąžinsime sriuboms antrą kvėpavimą. Pasaulis miršta nuo Ramen'o jau ne pirmus metus, tačiau šį patiekalą turbina dar labiau. Deda ir tokius keistu dalykus, kaip Parmezano sūrį ar maltą mėsą, tahini pastą. Bet aišku, skaniausi išlieka su marinuotais kiaušiniais, naminiais noodles, puikiaisiais sultiniais ir įprastais Ramen'ui reikalais.

Prancūziška svogūnų sriuba laikoma etalonu. O šiaip Prancūzija priskiriama prie vienos iš madingiausių krypčių šiais metais.

Iš anksto paruoštos šaltos sriubos buteliukuose pietums užima vaisinių smoothie vietą. O prekybos centrų lentynose atsiranda vis daugiau iš anksto paruoštų ekologiškų ir sveikų sriubų, kurias belieka tik pasišildyti.

Kokios jos? Ogi visokios! Nuo barščių ir kopūstienių, iki Tom Yum, Minestrone, alaus ir Čederio sūrio, Pozole, morkų žirnelių sriubytės su vištyte, morkų ar moliūgų ir visų kitų.

ŠIE METAI – indiško fast casual street food ATGIMIMO METAI

Kaip ir Indija yra kone šalis numeris vienas lankytinų sąraše, taip ir indiška virtuvė yra numeris vienas valgytinų sąraše. Pradedant indiškais kariais su vištienos Tikka Masala priešaky, keliaujame gilyn į Indijos regionus ir gatves. Aštrios ėrienos burritos, Masala pica, vištienos Tandori kepsniai, įvairūs suktinukai indiški dubenėliai, salotos, lęšiai, paneer sūris ir auksinis pienas (Golden Milk).

Šis pienas – populiarumo viršūnė. Tai dažniausiai migdolų (ar kokosų, sojų bet ne karvės) pienas, pagardintas ir nuspalvintas kurkuma prieskoniu. Sakoma, kad super sveikas reikalas.

Beje, cukrus jau seniai nebemadingas. O prie agavų ir palmių natūralių cukraus pakaitalų prisijungia ir datulių sirupas.

Kitos VIRTUVĖS "ant bangos" – KORĖJOS ir FILIPINŲ

Gal pastarosios mums pažįstamos šiek tiek mažiau, BET niekam ne paslaptis, jog maisto tendencijas diktuoja kai kurios JAV valstijos ir miestai. O ten Filipinų virtuvė atgyja kaip reikiant. Įvairūs mums nelabai girdėti patiekalai keliauja į fine dining restoranus ir gatvės maisto kioskelius. Žmonės sužino naujus žodžius, tokius kaip, Lumpia (filipinietiški suktinukai), Sisig (patiekalas iš kiaulės galvos ir kepenų su kalmarais ir čili pipirais), Longganisa (filipinietiška dešra), Kare-kare (troškinys su žemės riešutų padažu).

Gal šiek tiek ekstremalu, bet gurmanams tai patinka!

Ir dar viena virtuvė, kurios patiekalus JAV, ir ne tik, restoranai, trendy vietelės bei turgūs sparčiai traukia į šviesą ir savo meniu – Korėjos virtuvė.

UMAMI žodis, kurį reikėtų mokėti mintimai. Aukščiausios klasės restoranai integruoja Kimchi(fermentuotos daržovės), Bibimbap (korėjietiškas valgis, gaminamas iš ryžių, daržovių ir čili pipirų padažo), naudojami gochujang (tokia čili pasta), wasabi. Visa tai atsiranda ir prie austrių, tartaruose kepsniuose, užkandžiuose ir pagrindiniuose patiekaluose. Kombucha, Bok Choy ir gruzdintos vištienos kojytės. Niam niam niam.

AVOKADAI – lyg BAROKAS

Kaip žinia, Barokas – kultūros epocha ir meno kryptis. Taip ir avokadas. Jis tapo atskiru judėjimu. Jeigu anksčiau karaliavo hashtag'as "avocado toast", tai dabar bandomi su juo sukurti nauji šedevrai. Pasta su avokadais, pica su avokadais, avokado burgeris ir net kapučinas su avokadais. Amsterdame atidarytas netgi restoranėlis "The Avocado show". Kur, žinoma, viskas su avokadais.

VIENO PATIEKALO RESTORANAI 

Štai čia ryškėja dar viena tendencija – vieno patiekalo restoranai. Spurginės, kebabinės, sušinės ir visos kitos vieno patiekalo vietos. Lisabonoje galite rasti vien tartarų restoraną, be galo populiarus tinklas "Yang's Braised Chicken Rise" (vėl ryžiai ir višta) restoranas, kukulių vietos, dešrainių mekos, ledainės ir steikinės.

Tokio pobūdžio vietų esama ir pas mus! Ir jų vis daugėja.

Įdomu tai, jog tie patys kebabai šiais metais pasaulyje įvardijami irgi kaip vienas iš etalonų. Gal atėjo laikas ir mums pripažinti esant kebabų tauta?

Reziume:
Sveikesni produktai – augalinės kilmės proteinai ir veganiškas maistas
Laisva nuo mėsos diena
Karvės pieną keičia migdolų, sojų, kokosų ar auksinis pienas su kurkuma
Sriubos – nuo svogūnų sriubos iki Ramen, nuo barščių iki Tom Yum
Indiška virtuvė – Tikka Masala, paneer sūris, ėriena, indiškas humusas, anakardžiai ir visi kitos indiškos gėrybės
Korėjos ir Filipinų virtuvės – skaityti išsamias pastraipas
Avokadai keliauja į visus patiekalus iš eilės
Kebabai atgimsta!
Valgysim Šnitzelį
Ryžių ir vištienos metai
Maistinės kanapės ir mediciniai grybai – ateikit čia
Vodka Martini, burbono, Sangrijos ir kitų alkoholinių gėrimų desertai
Gryni ir tyri gėrimai!
Hidrogeninis vanduo
Atsiskaitymas veidu
Ir casual dining restoranų epocha!
o
Prisipažinsiu, eilinį kartą man patinka.